Note: The following review was written a long time ago, before our migration to WordPress and when our reviewing skills were still noob-level. Apologies. 
Adapted from a manga of the same title
Produced by: Kinema Citrus
Genres: Comedy, Slice of Life
Number of episodes: 12
Summary:
Despite his young age, Seishuu Handa is a professional calligrapher. After an elderly curator of an exhibition criticized his calligraphy for being too unoriginal – like a copybook – Handa gets angry and punches the curator. In the wake of this faux pas, his father then sends him off for a "retreat" (as a punishment) on Gotō Island, near Kyūshū. As someone who has never lived outside of the city, Handa was forced to adapt to all the new things that he finds there. There, he meets interesting people, interacts with them, and begins to learn.
Main Characters: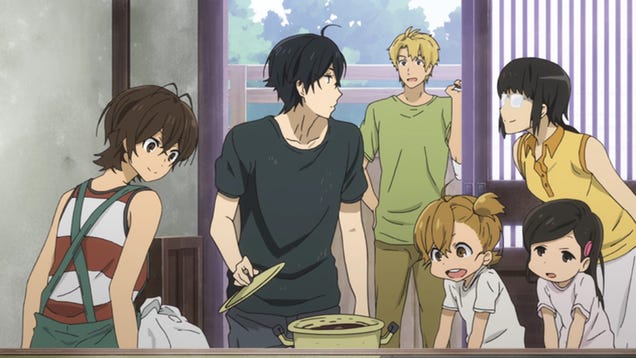 From left: Yamamura Miwa, Handa Seishu, Kido Hiroshi,
Kotoishi Naru, Arai Tamako, Kubota Hina
Overall Rating: 3.5/5 moons
Breakdown:
Story – 7/10
Honestly speaking, this anime is actually very… cheesy. A lot of corny lines, typical heart-warming moments, but it's overall a very good series that's light on the emotions.
The story revolves mainly around calligraphy, and for some, it's a pretty boring topic. But the way that they presented it in the series was rather interesting. And with cheeky kids fooling around all the time, most will probably be able to enjoy watching our protagonist doing some babysitting. Also, there's no romance at all (other than the non-existent, imaginative yaoi scenes that originated from Arai's brain), since the two mains are a 23 year old (and lost) calligrapher, and a 7-year old kid.
There are many random scenes that seemed like fillers, but they all connect together near the end, so do watch out for those. The humour does get a little nonsensical from time to time, but overall it's still bearable. Then again, there's quite a number of corny/cheesy scenes, lines, etc – hang in there until somewhere around episode 5, it'll get better, kind of.
Character – 7.5/10
One very good aspect of the characters' would be how they developed them, especially Handa. His character changed so much, that when you compare him in episode 1 and in episode 12, it's so inspirational.
The fact that they created him to be a childish 23 year old, and later made him grow into a reliable adult (somewhat) in the end, was what supported the story's development as well. They went into detail of his character's development, for example in his actions and speech patterns, choice of words, etc. Because he was kind of like a prodigy (a young calligrapher, whatnot), they probably set Handa's character that way to send a message: prodigies do work hard, too; everyone does, everyone should.
Another very interestingly designed character would definitely be Naru. She's 7 years old (6 in the beginning of the series), yet she has such great command of vocabulary, and always manages to encourage a 23 year old with very inspirational speech. But they still kept the balance by making her such a cheeky kid – which provided a lot of comic relief. Considering how childish Handa was in the beginning, I think her maturity was much needed for some balance, or it would be pretty hectic all around. 
Visuals + Audio – 7/10
The artwork wasn't top notch, but it was still pretty nice. There is still the obvious main-stream anime art style influence, but they didn't have too many complicated details with the character designing. Everything's very simple, clean cut. I guess they wanted viewers to focus more on the story than the characters.
The OST and BGM weren't exceptionally outstanding, BUT the SEIYUUS. I personally enjoyed the series very much because of the voice actors (please excuse my quick fangirl session)! The actors for Handa and Kawafuji are the ones who voiced Midorima and Aomine from Kuroko no Basuke, while Kanzaki was voiced by the voice of Narumiya (Daiya no A). The voice behind Hiroshi was also Soul Evans (Soul Eater) and Tsukishima (Haikyuu!). I won't list everyone out, but all their voices were so good, I couldn't hold it in. And apparently Naru was also voiced by a real  little girl. Isn't that cute?
[
TL;DR

] 

An anime series that has a decent storyline that revolves around calligraphy, with clean and simple art style, and also pretty interesting characters – not the top notch, but is a very heart-warming and inspirational anime series regardless. May get a little too corny/cheesy for those who can't stand those kind of things.